Name
Beastbox
Faction
Decepticon
Function
Interrogator
Alt Mode
Cassette
Type
FC
Profile
"Speak now if you intend to ever speak at all."
Beastbox's violent temper often overcomes his natural curiosity. More willing to whittle down his captives with his fists than with his words. Few survive his interrogations long enough to reveal anything useful. Can record up to 6000 hours of testimony. Equipped with two compression cannons, which crush a target with tons of compressed air pressure. Partnered with Squawktalk. Together, the pair combines to form the robot Squawkbox.
Skills: Interrogation, Torture, Recording Testimony, Curiosity Killed The Ape, and Monkeyshines
History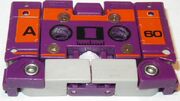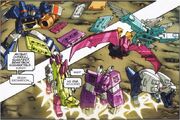 Reverse engineered by Decepticon scientists from the Autobot tape combiner Slamdance.
Notes
One of only two G1 ape transformers

The only ape that can FLY
Has two large guns but prefers to just punch things mercilessly
Logs
2031
Players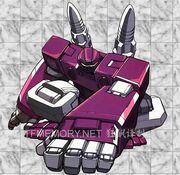 August 09 2010 - Present - Vitacus
Community content is available under
CC-BY-SA
unless otherwise noted.