Name
Blast Off
Faction
Decepticon
Function
Space Warrior
Alt Mode
Space Shuttle
Type
FC
Profile
"I destroy Autobots by choice, not by command."
Feels literally and figuratively above the other Transformers as he soars through outer space. Aristocratic, aloof -- disguises his long-distance loneliness. Cruelly efficient at raining down destruction on Earth. Flies at 26,000 mph, stays in orbit for 8 months. Shoots powerful X-ray blaster to hit target 12,000 miles away. In robot mode, uses ionic blaster. Combines with fellow Combaticons to form Bruticus.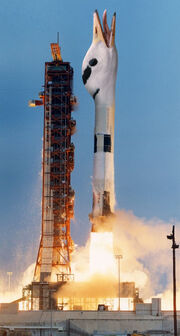 History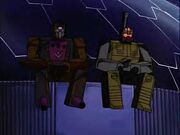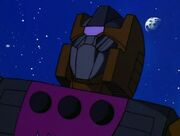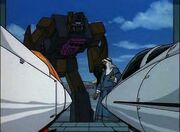 A sizable chunk of Blast Off's formative history with the other Combaticon special team members.
Notes
Even though Blast Off can shoot Autobots from orbit, they almost always manage to shoot him back somehow.
Blast Off and Cosmos (used to) fight all the time although Blast Off would really like to get to know Cosmos socially.
You can tell when Blast Off is orbital-bombarding an area that you're in because a pillar of blue light comes down out of the sky and pebbles start to float up slowly into the air. At this point, circumstances permitting, you should move out of the way.
Blast Off gets very pissy when he's being forced to do Astrotrain's function.
Was sacrificed to the gods. He got better.
Has an intense rivalry with Blurr, and is one of the few Decepticons who can shoot Blurr with any kind of frequency. (It's still not easy, though.)
Respects Sky Lynx as a fellow space shuttle, despite being on different sides.
Has put a bounty on Wraith's head.
Blast off is also developing a rivalry with Dogfight!
<Decepticon> Blitzwing says, "Blast Off's got 99 problems and $&**$!& are ALL of them, ahahaha."
Space Opera
Logs
2107 (alternate future concurrent with 2028)
Living The Dream - Sixknight kills Daniel, again and again and again. And then... I, WARMONGER!
Final Crisis - The forces of Praxis fight the forces of Grimlock in an epic battle to determine the fate of the planet, past and future
2029
Log: Epic Paris G-Battle - Three Decepticon and two Autobot combiners, plus assorted Autobots, go at it in Paris as what should be a simple raid balloons into an out-of-control clash of the titans!

2030
2031
First Lensman - You want to leave, they want to blow the 'toy' Guardian up. And people wonder why Blast Off gets pissy
about doing a certain other shuttle's job...
Charred Strike - Guard duty is less dull when your enemies come right to you!
A Sweep Surprise - Lesson Learned: NEVER use 'Wild' attacks when Galvatron is in the audience!
Swamp Zombies - Apparently cyber-zombies don't like being cannibalized by greed. And Blast Off nukes a bridge in spite.
Taking Whats Ours - Blast Off helps Swindle 'reclaim' stuff from a bad deal in exchange for some of the haul.
We Lucky Few - Blast Off got to make 'trailer envy' jokes at Rodimus' expense, and then orbital cannon him. Best night on patrol ever.
2034
Logs
LogGrabber - 292 page(s) found in 0.757 sec. (2020/03/28 07:32:15)
Players
Previous - Swiftpawwolf (2010)
Current: StringTheories (2013-present)
Community content is available under
CC-BY-SA
unless otherwise noted.