Name
Cindersaur
Faction
Decepticon
Function
FIRESTORM TROOPER
Alt Mode
Monster
Type
FC
Profile
"Crash and burn... and burn... and burn."
Incinerates everything in his path so he can find his way home. Leaves a trail of charred ground wherever he goes. Probably fried some of his brain circuits from excessive smoke inhalation. Enjoys taking flame baths to soothe his aching joints. Equipped with fusion-powered flame breath that can be focused in a narrow stream or sprayed in a wide angle. His hobbies include barbecuing Autobots and drinking volcanic lava.
History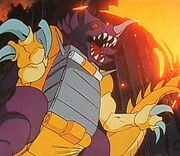 Notes
Makes a great space heater for those chilly nights. But only if you're a Decepticon.
Logs
Players
Community content is available under
CC-BY-SA
unless otherwise noted.