Name
Cutthroat
Faction
Decepticon
Function
Shock Trooper
Alt Mode
Roc
Type
FC
Profile
"Compassion is the currency of losers."
Not a trace of mercy can be found among his microchips - he takes great pleasure in dealing destruction to his enemies. In battle, lashes out with wings, beak, and claws to cut everything to ribbons. In creature mode can leap 4 miles in one jump, breathes flame. In robot mode, carries double-barreled magnetizer that oppositely charges any metal target so it tears itself apart. Combines with fellow Terrorcons to form Abominus.
History
Notes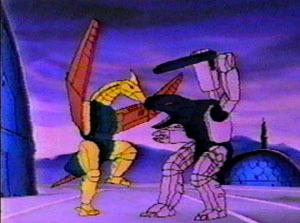 Logs
Is It Safe? - Blueshift gets his head cut open by Hook. Cutthroat is all mean about it
The Battle Of Vernier - Scourge has a diabolical plan - to build a gigantic Ultra Mega Vernier in Florida, and use it to spin the Earth off its axis. Can the Autobots stop him?
Players
WingedTerrorcon
Community content is available under
CC-BY-SA
unless otherwise noted.