Name
First Aid
Faction
Autobot
Function
Doctor
Alt Mode
Ambulance
Type
FC
Profile
"An ounce of maintenance is worth a pound of cure."
Hates seeing any machine in pain -- even those who don't know it, like a broken street lamp or an overheated car. Compassionate, but sometimes overly cautious -- will restrict an Autobot to repair bay for a faulty directional signal. Carries dual-barreled decrystallizer cannon -- weakens metal by disrupting crystalline structure -- and photon pistol. Fists shoot laser beams used for welding in surgery. With fellow Protectobots, combines to form Defensor.
History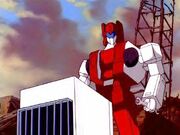 Notes
Logs
2029
2030
2034
Players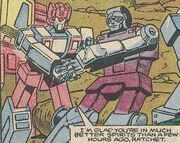 Community content is available under
CC-BY-SA
unless otherwise noted.