Name
Full-Tilt
Faction
Decepticon
Function
Emissary
Alt Mode
All-Terrain Vehicle
Type
NPC
Profile
"Total victory requires total information"
Full-Tilt was created for a special purpose: to serve as an intermediary between the Decepticons and the savage Trypticon. Intelligent and charismatic, he serves as an excellent middle-man to achieve his master's terrible will. Well-liked via implicit threat: an attack on Full-Tilt is an attack on Trypticon! Advanced communications suite relays audio and visual information back to Trypticon within seconds, no matter where he is. Transforms into armored all-terrain vehicle to scout potential targets for Trypticon's wrath. Carries independently targetable dual electro-laser cannons. Secretly enjoys planet Earth for its many ramps to drive down.
History
Notes
Full-Tilt's secondary role is to serve the refreshments at command meetings
Full-Tilt's favourite colour is purple
He's also the famed PIRATE KING of PIRATE ISLAND.
Full-Tilt's daddy is Thunderwing. HE DOES NOT KNOW THIS and thinks he is an orphan :c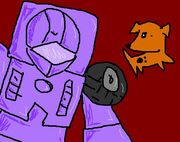 Trypticon's Official Hit List
Impulse
The Aerialbots
Logs
Players
Community content is available under
CC-BY-SA
unless otherwise noted.