Name
Grapple
Faction
Autobot
Function
Architect
Alt Mode
Crane
Type
FC
Profile
"Beauty is in everything except war."
On Cybertron in the past, his buildings were considered works of art. Currently, his abilities are limited by war. But still takes pride in his job, and is prone to severe depression if his works are destroyed in battle. As crane, can lift a 35-ton object, and position it with precision and grace. As robot, has high-temperature arc-welder rifle ... can launch rockets 4.5 miles from wrist sockets. Prone to breakdown in vehicle mode.
History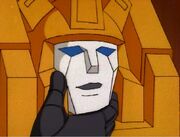 In 2029, whilst working on the designs for Cineplex, Grapple was poisoned by the The Juice and spent a few weeks trying to kill Nightbeat.
Notes
Despite what some may say, he's FAR more than an Inferno ripoff with yellow paint.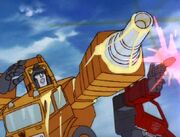 Logs
2029
2030
What Lies Beneath - Crosscheck takes a crack team of adventurists into the chasm accidentally discovered by Markdown.
2032
Players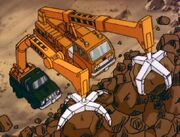 Current: Blurrguest (the one with the plushies)
Later in 2008: Sensational
Early 2008: Blueshift