Name
Seaspray
Faction
Autobot
Function
Naval Defense
Alt Mode
Hovercraft
Type
FC
Profile
"Be as relentless as the ocean waves, and your enemy will fall."
Displays a zest for his job unmatched by his fellow Autobots. Loves the thrill of naval battle, as well as the ocean and its creatures, and is unhappy when he has to return to land and revert to robot form. Can go 120 knots, 4000 mile range. Has SONAR, RADAR, and underwater and surface-to-air lasers, also used in robot mode. Wheels allow limited land travel. Not too strong or mobile as robot.
History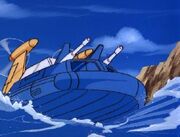 Notes
Not too strong or mobile as hovercraft either, to be quite frank.
Everyone else has lasers just for a start.
Doesn't think too highly of the Seacons.
Logs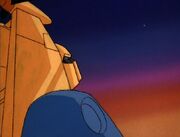 Players