Name
Skids
Faction
Autobot
Function
Theoretician
Alt Mode
Minivan
Type
FC
Profile
"Deep down, we are more like than unalike humans."
A daydreamer who often bumps into things at 60 mph while pondering Earth life instead of watching for a Decepticon attack. Considers Earth one vast lab for his research. His findings are often invaluable to fellow Autobots. Enormous memory storage capacity. Carries a liquid nitrogen rifle with 600 foot range. Electron blaster of 20,000 volts can short-circuit almost anything. At 50 mph can stop within 25 feet. Not very fast.
History
Notes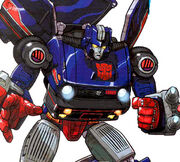 Skids was an Honorary Dinobot during Grimlock's campaign for Governor. He took part in the "debates", though at the time he was not really sure where he was or what was happening.
In a last-ditch effort to save the Dinobot Commander's life, Skids patched Grimlock's personality matrix with his own. As a result, Skids and Grimlock temporarily adopted aspects of each others' personalities.
In an alternate future Skids became the evil despot known as Praxis and doomed Cybertron. Well done Skids.
Skids carries an "In Case of Space/Time Singularity" kit with him at all times.
Logs
2107 (alternate future concurrent with 2028)
Final Crisis - The forces of Praxis fight the forces of Grimlock in an epic battle to determine the fate of the planet, past and future
2029
Players
Warmonger 9/14/2007 - 01/24/2008