Name
Swindle
Faction
Decepticon
Function
Munitions Expert
Alt Mode
Jeep
Type
FC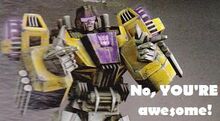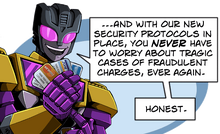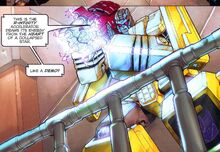 Profile
"Make deals, not war."
Easy-going and good natured, but within him beats the fuel pump of the most greed-driven street hustler. Thrives on wheeling and dealing, works for his own personal material advancement. A one-robot "Black Market". Uses a scatter blaster that sprays explosive pellets, gyro gun that disrupts Transformers' balance centers. Prone to overturning on sharp turns. Combines with fellow Combaticons to form Bruticus.
History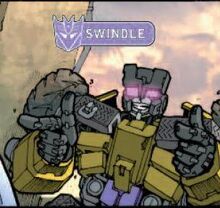 Notes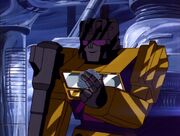 Swindle once sold Brawl's brain because he didn't think anyone would notice. This says more about Brawl than it does about Swindle.
Seeing how Swindle is a munitions expert with nearly unlimited personal funds, that scatter-blaster/gyro-gun combination must be really something.
     It's all about style.
     Weaponsmith helps.

Now featuring Recalibrate for all your retuning needs! ... Just make sure he doesn't filch the leftover parts...
Swindle can get you a fantastic deal on pure Egyptian cotton. Everyone gets a share.
Swindle is the only Decepticon to hold a Juris Doctor. He is licensed to practice in the state of Maryland.
Sometimes Swindle wears a bolo tie.
Swindle does sell insurance. He'll get you good rates on Dinobot protection. Just don't ask about shuttle insurance. Or a warranty on any sales.
His assistant/manual labor flunky is named Deadweight. He turns into a forklift. Wherever could that idea have come from...
Logs
LogGrabber - 89 page(s) found in 0.362 sec. (2019/03/23 08:46:28)
Players
2010 (2031) - Novakitsune
012 (2033) to current - Swiftpawwolf