Name
Tailgate
Faction
Autobot
Function
Scout
Alt Mode
Sports Car
Type
FC
Profile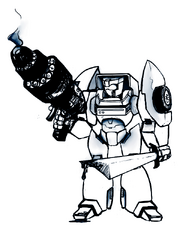 "Let my fellow mechanical beings go!"

He sometimes has his mind stuck in low gear; believes 55 mph speed limit is infringement on rights of cars. Garages are prisons to him... doesn't understand Earth machines are not alive. Goes 180 mph, range 600 miles. Uses ferrocobalt magnet under hood to be pulled by and within a few feet of other vehicles, reducing his fuel use to near zero. Prone to overheating.
History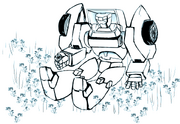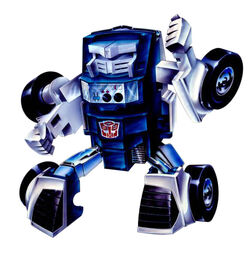 Notes
1) Tailgate is an idiot. 2) Don't bother trying to convince him that Earth machines aren't sentient. 3) See 1.
When Tailgate uses his powerful electromagnet, he's prone to singing songs. Especially showtunes. He usually gets the lyrics wrong.
Tailgate sincerely believes that freedom is the right of all sentient beings. Unfortunately, he can neither define nor identify 'sentient beings.'
Tailgate will side with the Autobots over the Decepticons, the Minibots over the Autobots, and helpless Earth creatures (read: appliances) over all of these. This is why Tailgate is a Scout -- not because he's a particularly effective scout, but rather because this way he can be sent on long missions and limited to radio silence.
Logs
Logs
LogGrabber - 48 page(s) found in 0.149 sec. (2019/03/25 03:23:06)
Players