Name
Venom
Faction
Decepticon
Function
Psychological Warfare
Alt Mode
Cicada
Type
FC
Profile
"Friends are more dangerous than enemies."
Will use his poisonous talents even on fellow Decepticons because he trusts no one and suspects everyone is trying to usurp his role as leader. His stinger can discharge fluids harmful to mechanical and organic life; corrosive acids, destructive catalysts, paralysing toxins, and others. Stinger can penetrate 6.35 millimetre steel, but sometimes gets stuck and breaks off. Flies at 24 kph for 482 kilometres. Carries electro-blaster in robot form.
History
None
Notes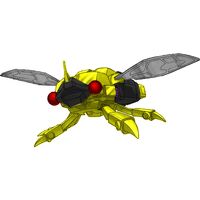 Venom is a founding member of the Mayhems
Cicadas do not have stingers, meant to deploy venom and paralyse or otherwise harm their victim. Venom has had an upgrade.
Logs
2032
Player
Morgan (7 July 2009 to 18 December 2009; 9 January 2011 to Present)